How to use the avatar
This helpsheet will take you through working with your avatar
This is where all the fun and reward happens, for your pupils. This is where they can enjoy the fruits of their hard work and excellent behaviour and attitude to learning.
Pupils can update their avatar by:
Clicking on the text Change profile picture on your dashboard and moving to their profile.
Then click on the Change avatar button in your profile.
All users can select the Avatar option on the Merits menu.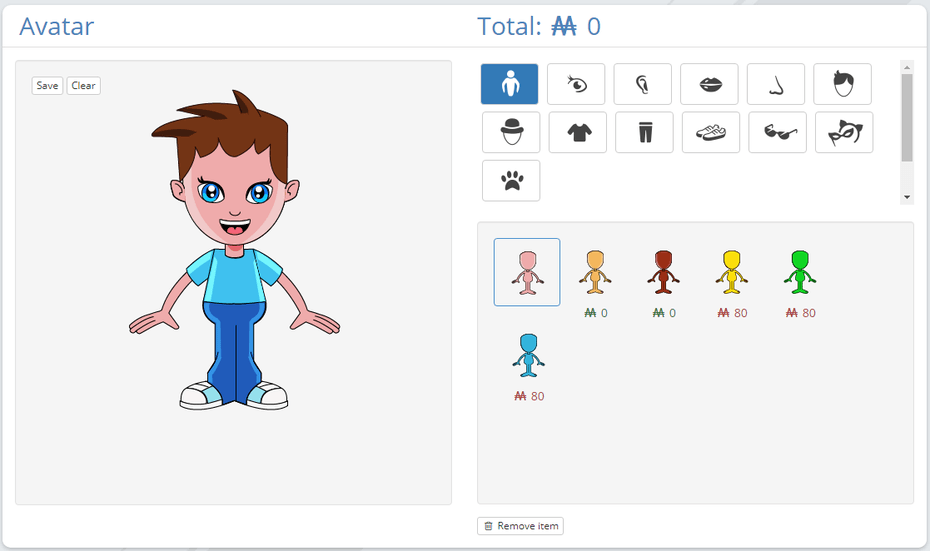 You will then be presented with your avatar and the tools to change the existing or add new clothes and accessories.
The sections you can choose clothes and accessories from are:
The last six icons are all you need to make a particular character outfit, grouped together in one

place.

Base Body

Eyes

Ears

Mouth

Nose

Hair

Head Gear

Tops

Bottoms

Foot Wear

Accessories

Character Suits

Pets
There are literally hundreds of exciting clothes and accessories to choose from. It would be very difficult for pupils to all create avatars that look very alike.
To select an item of clothing or accessory click on the section icon and then click on the item you would like to add to your avatar. If you do not like it just click on the item again and it will be removed. Your merit balance will change as you work on your avatar so it is easy to see what you have left to spend.
Once you have finished working on your avatar you click on the Save button in the top left corner of the avatar screen. You will be asked to confirm your changes by clicking on the blue Save avatar button.
You will see a message telling you that your avatar has been updated.