How to add and publish News
This help sheet explains what the news feed is and how it works. News entered using this feature will be pushed through to the School Updates mobile app
The News feature enables you to have a list of interesting News items fed on to any number of pages in your website. For example the Year 3 class can have their News feed in their own Year 3 class page, the Governors page and on the Latest News page.
How to write News stories
1. Log in to your School Jotter website and Click the Manage button and select News.

You can arrange your news items into categories. For example you could have a category for each class or for the Governors.
2. To create a category click the News Categories button.

3. Click on the Add New Category button.

4. Type a name and description and then click the Add News category button.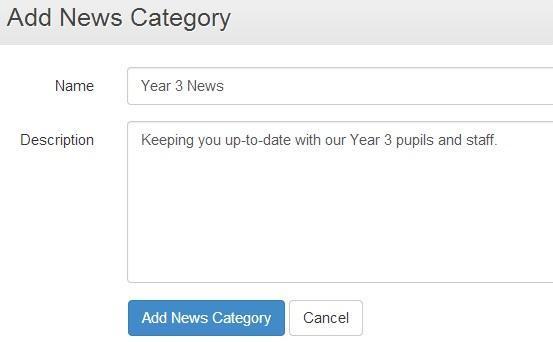 5. When you have created the categories required. You can edit a category at any time but can only delete a category with no news stories in it. When you are finished click on the Back button to return to the News window. You will see a list of your Categories displayed as below.
6. To add a new News item click the Add News button. Select the Category, add a title and description and the news content. Click the Add News button. If you have the Mobile App then the News item will be set to iPhones and SmartPhones automatically.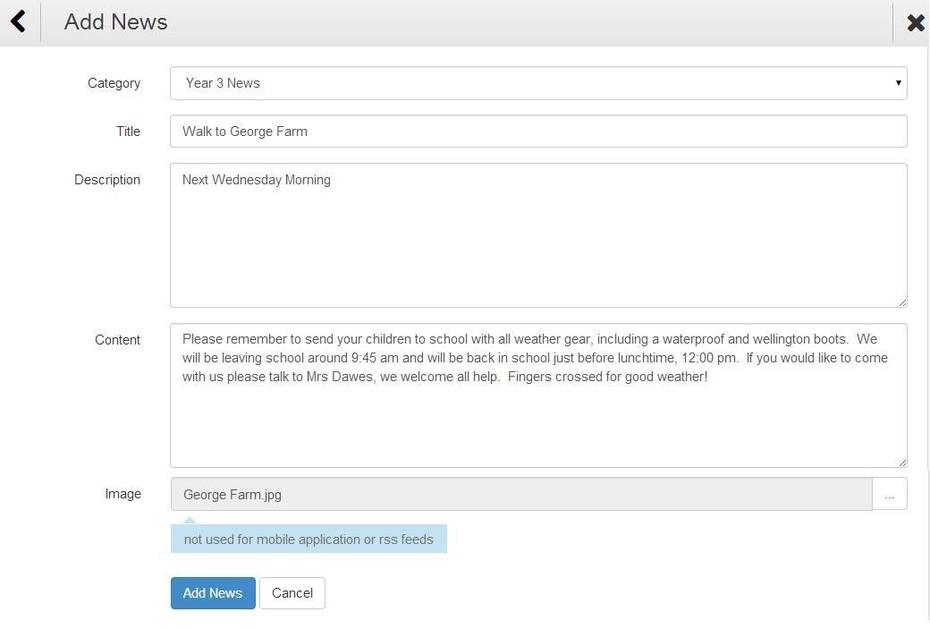 7. Close the window.
Publish news on your webpage
You'll only need to add the news feed once on your page. Every news story you write (see above)will automatically be displayed in this feed on your website,
1. Navigate to the page you wish to add the news feed to and click the blue Edit Page button.

2. Click the Insert Item button and select News.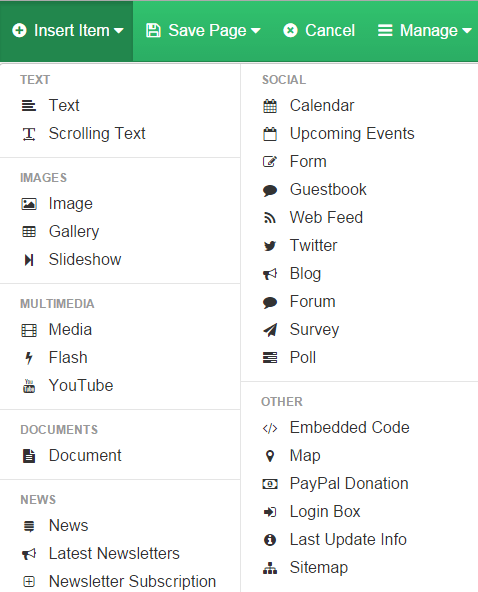 3. Click on the black bar that says Insert news here.

4. Your news feed will be added with the first news feed (alphabetical order) appearing on your webpage. Use the news toolbar to select the category of news that you want to be seen here. Click the blue Update button.

5. Click on the Save Page button and then select Save and Publish.

6. You News is displayed like this on your school website:

7. Clicking on the News title, Walk to George Farm, will open the news article up in full. Clicking on the blue News Page >> link will open the News Page showing all news articles.