Footer Images
This help sheet explains how to add or remove Footer Images or Awards. Please note this feature must be enabled in your theme so contact helpdesk@webanywhere.co.uk or your account manager for this feature to be added:
Click on Manage > Settings

1. Login to you schooljotter page

2. In main menu click Manage -> Settings
3. In your options on the left hand side find Footer Images
4. Click on … button on the right side
5. You will see a popup where you can upload your images.
6. First of all create a folder so you can upload and manage all images in one folder.

7. Click upload files and choose you images.
8. After choosing images click Start Upload
9. You will see that your images uploaded successfully.
10. Click on <- beside UPLOAD FILE to go back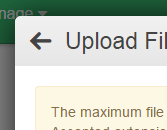 11. You should see all images in your folder.
12. Click Select on one or more images to add to the footer
13. Click Choose to add images to your slideshow
14. Click Save Settings to save your images
15. The footer will now show your images
You can also add links for each award in the Footer Images section.